If you're frequently suffering from heel pain or other feet discomfort, having custom orthotic may save you.
A custom orthotic is a device that is inserted into the shoes to accommodate and support poor foot mechanics or foot deformities. Special plantar fasciitis orthotics work by realigning, cushioning, and supporting a damaged plantar fascia, relieving pain and allowing inflamed and strained tissue to heal.
Orthotics are Not Just for Runners with Plantar Fasciitis!
A custom orthotic can treat various foot problems such as bursitis, diabetic foot ulcers, tendonitis, flat foot, and plantar fasciitis. Wearing a custom orthotic is also beneficial to individuals suffering from knee, foot, heel, and ankle pains..
Receiving custom orthotic improves posture and balance of the wearer. This makes shoes feel comfortable when walking. A personalized orthotic is made to treat specific feet problems. These ensure immediate relief and adaptation to the foot contours.
Benefits of Running with Orthotics
The benefits to running with orthotic inserts–even if you're not currently experiencing heel pain or foot pain–are substantial:
Improve excessive pronation and gait abnormalities:If you pronate while you run, meaning your feet collapse inward, the consequences on your knees can be dire. Pronation also increases your chances of developing plantar fasciitis and stress fractures. Orthotics can correct this gait imbalance.
Alignment:Orthotics have the ability to stabilize and improve alignment throughout the body, not just in your feet. When your feet are properly aligned as they strike the ground, it helps the rest of your lower body including legs, hips, and back, work in proper alignment.
Posture:If you're a runner, your gait and alignment don't just have an impact while you run. Your posture–which can positively or negatively impact aches and strain to the rest of your body–is directly tied to a healthy gait and alignment.
Preventative care:Orthotics help stave off a whole host of problems by supporting your plantar fascia and other muscles and ligaments in the feet. These conditions include plantar fasciitis, shin splints, blisters, hammer toe, and tendonitis.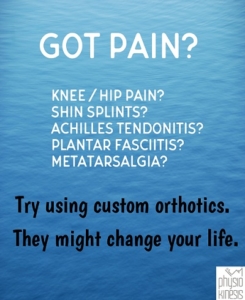 This post is also available in: Greek